LRE's Customers Rides
LRE's customers are some of the best around! Here's a look at some of the cars we have had the pleasure of working on.

pictures coming soon..

Mikeys 65 'Laxie' 500
-The Laxie-
News update on the Laxie!
The 65 Galaxie packed with a 532 inch LRE Stroker ford is getting "lightened" up this winter. Some new shiney aluminum cylinder heads, a nice roller cam, and maybe a bigger converter this winter for the LAXIE! Who knows what this monster will be capable of!
It has been a long work in progress over the past several years for the Galaxie 500 we so affectionately call the, "Laxie Gal". It is bigger,badder, and faster this year and we look forward to more updates, pictures and videos in the next few months. Heres some recent footage we have of the 4,000 pound Galaxie at Great lakes Dragaway, ripping off mid 11 second passes on motor and high 10 second passes on a small shot of nitrous. What will it do this year? Look for it at cruise nights near you!
ladies+and+gentleman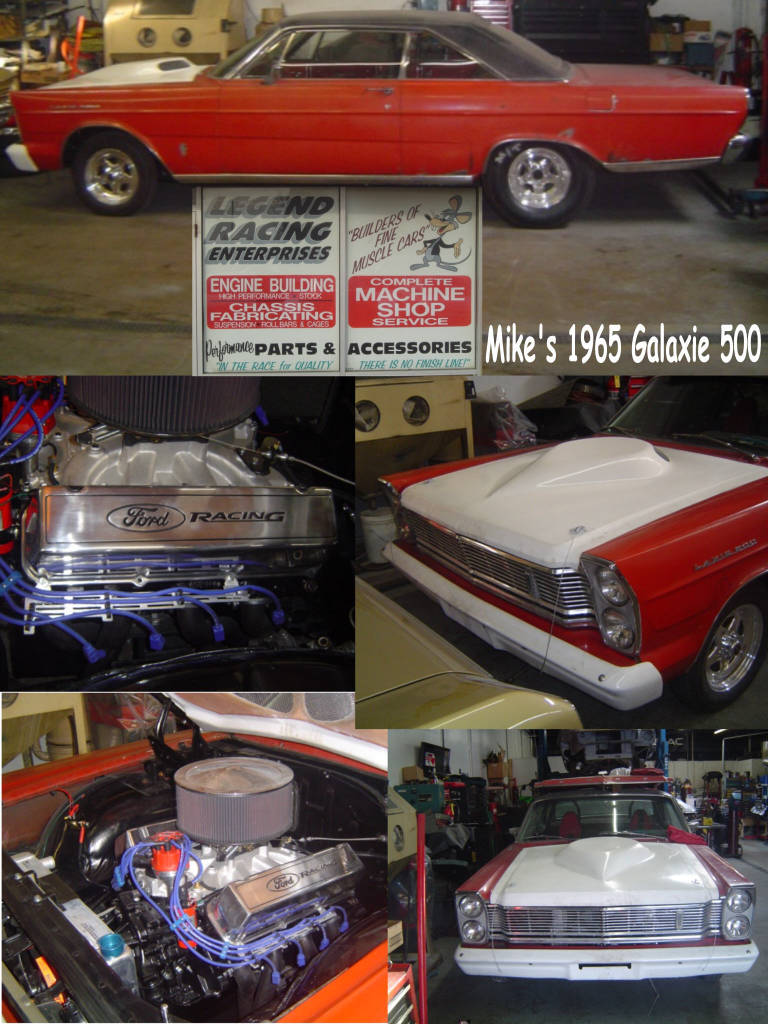 1966 GTO Conv.
Back to the Ozarks!
The Gold Drop top 66 is headed back to Lake of the Ozarks tonite.
Before it leaves the finishing touches on the inside, under the hood, and a good thorough cleaning.
This '66 came to us for a few simple refinements, after about 5 years since the 455 had been gone through it was time to make some changes. The hydraulic roller cam, GONE, solid roller in, dual quads on the Offy intake, GONE, Victor intake and a 950 Quick fuel in, more head work and a "better" flowing exhaust DONE!
This old poncho was in need of more lift, the edelbrock heads were screaming for more flow, so thats what they got, a big solid roller, we threw some quick time electric cut-outs in, and an auxillary fuel system for 110 octane leaded race fuel only.
On pump gas this monster made WAY over 500lb ft of torque to the tires and made 430 hp! Thats to the tires, through a richmond 6 speed and a moser 12 bolt!
But besides tire shredding torque, and loud pipes, this car is a great cruiser, light throttle cruising, stopping everything works perfect in this car and makes it really fun to drive!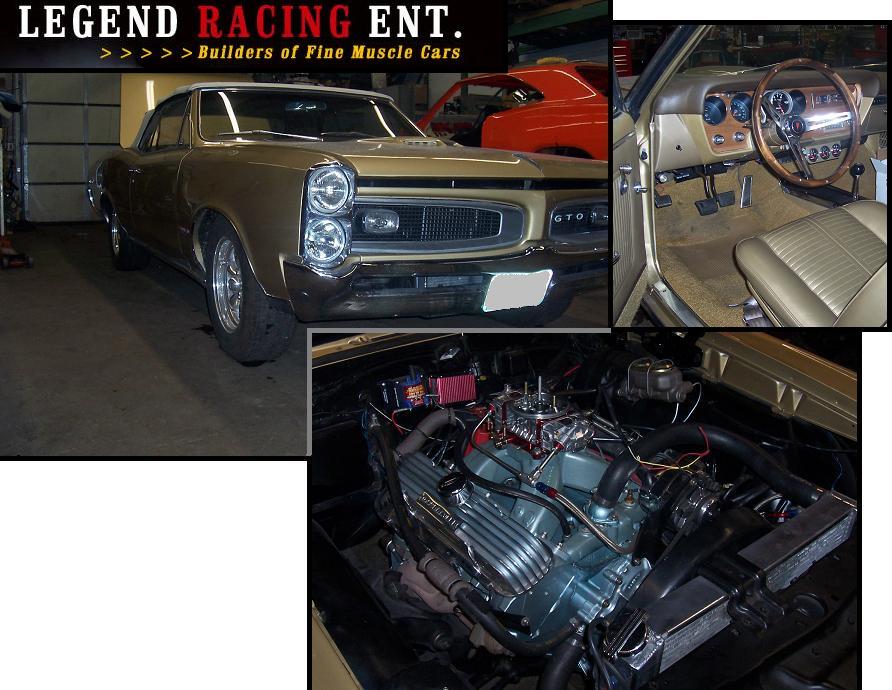 1955 Chevy Bel Air
This is one 1955 Chevy you will definetly take notice of. This stock appearing '55 isnt hiding much, with a big whole cut in the hood you can see the Quick fuel 850 carbs mounted a-top the BDS 8:71 blower. This 540 inch Rat has a set of polished edelbrock aluminum heads and a custom ground camshaft spec'd out by Doug! A Muncie 4 speed and a centerforce clutch is all it takes to get this monster rolling,and those cragars spin through 4 gears with the street radials out back.
One heck of a nice '55 with a tough little motor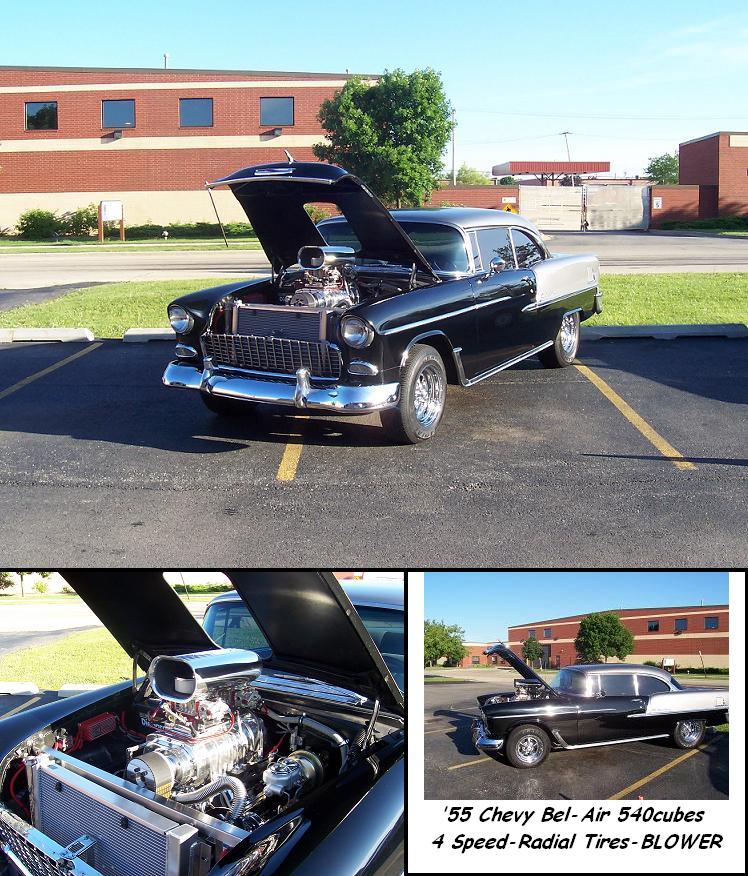 1966 Pontiac GTO
This Tuxedo Black 1966 GTO is restored from top to bottom, you might even venture to say the bottom looks just as good as the top. The deep black paint shop and the bright shiny stainless is only the tip of the iceberg for this GTO. Once you take a deeper look you see the 455 pontiac under the hood,with edelbrock aluminum heads and a hydraulic roller cam, edelbrock aluminum intake and Q-850 carb. But it doesnt stop there,complete with air conditioning this beauty is just as nice to drive as it is to look at.
A BOP th-400 is backed by a Gear Vendors overdrive unit, making this thing a pleasure to drive at 75 mph down the highway even with the 4:30 gears outback inside the Moser 12 Bolt. Alston tubular upper and lower control arms and a sway bar complete the suspension out back, while up front everything is bushed with Energy suspension polyurethane bushings.
The interior is simple,gorgeous black dash houses the rallye gauge pack, 3 chrome gauges above the console are just enough to finish it off.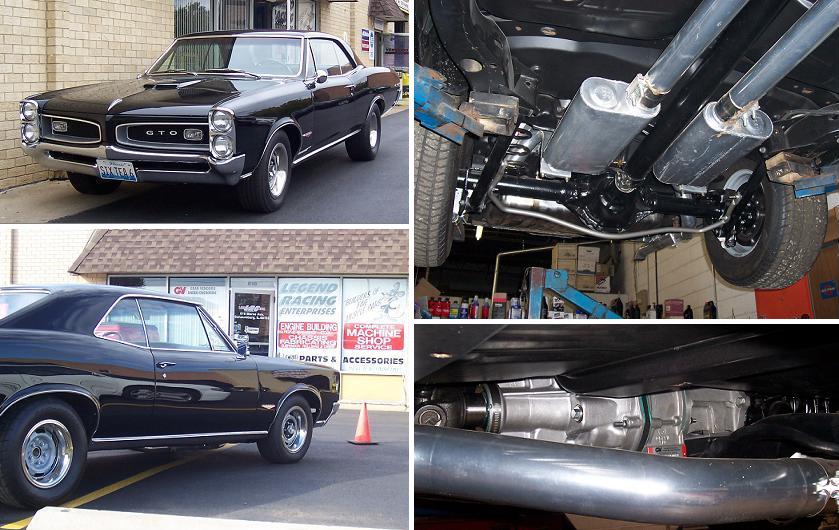 1969 Chevy Camaro
When this '69 left us it was a roller,we treated it to a 6pt roll bar, cal-tracs, and a set of Alston sub frame connectors.It finally made its way back to LRE this spring with subtle changes.
A 4 inch steel cowl hood, hiding a single dominator sitting atop a 572 cubic inch tall deck RAT.All the powder coating on this engine and the silver AN fittings on the fuel system really top this thing of nicely.
You'll be seeing this monster next summer on the streets!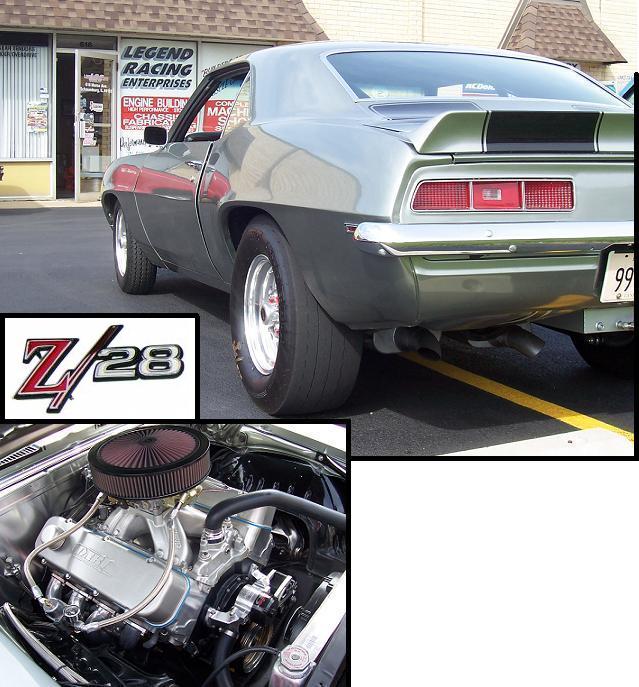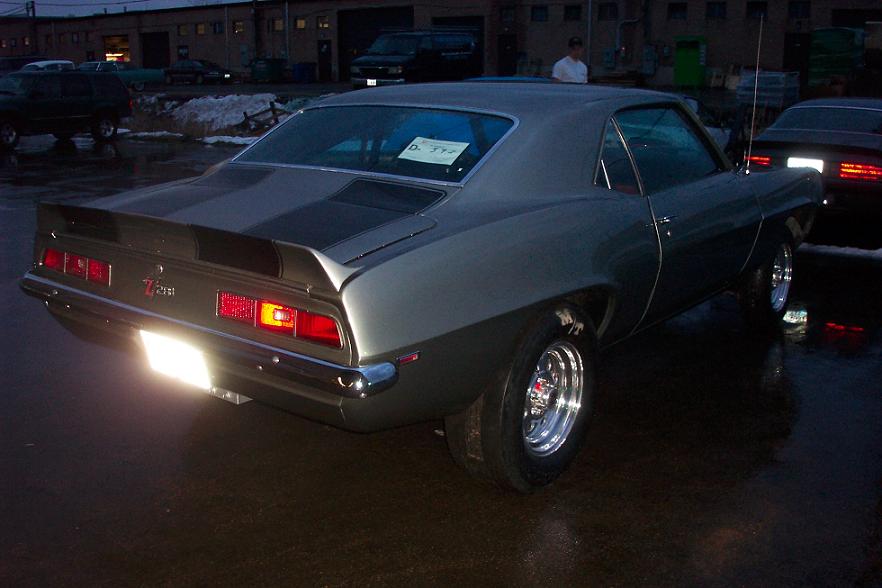 Page Last Updated: Mar 19, 2009 (11:59:00)